Do you know how the cloud works? A public cloud service is based on an external platform managed by a cloud service provider that allows users to obtain their own cloud within a shared infrastructure.
The provider offers everything from system resources to security and maintaining your system in the cloud. Given that it is managed by an external company specialized in cloud services for a wide range of clients, the public cloud is ideal for organizations that want more elasticity, profitability and the latest technology.
What is cloud storage and how does it work?
The cloud is an alternative storage system, which is proposed as an option increasingly chosen by more companies, who rely on the cloud to store their data, instead of hard drives of computer equipment, pendrives or compact discs.
In addition to the advantage of being able to access information from anywhere, something that would be impossible or very complicated to achieve with traditional storage systems, the way the cloud works ensures its scalability, guaranteeing that space needs will always be covered.
There are several types of cloud, although the public is usually associated with greater advantages. For companies that do not operate cloud infrastructure services as their core business, it would be exceedingly complicated to create a high quality, advanced private cloud.
Public cloud: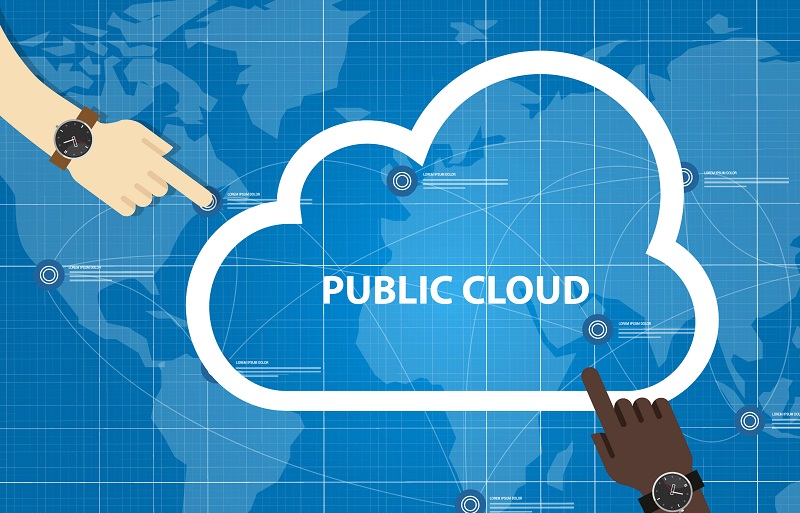 Aspects such as quality or safety mark the first difference and if costs are evaluated, the public cloud service also gains, since any company cannot match the economies of scale that public cloud providers have at their disposal. Considerations about performance and availability end up deciding many companies for the public cloud.
Hybrid cloud:
Another alternative is the hybrid cloud, quite popular until recently. However, the execution of the associated infrastructure is not necessarily cheaper for the company since, although it is true that developers can access it faster, there are other costs such as those derived from an interruption.
How the cloud works and what are the main advantages of the public cloud service
Knowing how the public cloud works are understanding their main advantages which are the following:
Quick and easy configuration
The entire process is carried out online and comfortably, the implementation is completed remotely and in a matter of a few minutes.
Maximum uptime and near zero risk of failure
Almost all public cloud providers guarantee more than 99% uptime and no interruption risk. Since the global cloud system interconnects several servers, in case of failure of a particular server, the other server automatically takes over the workload, ensuring uniform and continuous performance for business-critical applications.
Maintenance
One expense and one concern less. The company does not need to take responsibility for anything since it is the cloud providers who are responsible for the maintenance of hardware, software and networks.
The profitability of a flexible pricing structure, the agility experienced by operations when working in the cloud, the high flexibility and absence of redundancies or the global connectivity in minutes are benefits that reveal how the public cloud service works and that may end up deciding to those responsible for a business by this means of storage.
Ending with
Whatever the type of cloud services you choose, once you know how the public cloud service works, keep in mind that the implementation of any type of technology will require staff training and the establishment of an effective solution system of problems during and after the launch. It will also be necessary to address any doubts among business users, especially those who are not familiar with cloud technology.